FEATURE FILMS IN COMPETITION
Across the river and into the trees
Synopsis
We are in the second post-war period; US Army Colonel Richard Cantwell, haunted by the ghosts of the front, is a true hero who faces, stoic, the changing implications of his trauma. Determined to spend a weekend in quiet solitude, he requisitions a military vehicle to visit the places of his memories of him in Venice. As Cantwell's plans begin to unfold, a chance encounter with a gorgeous young woman rekindles a spark of hope in him. Based on Ernest Hemingway's latest novel published while the author was alive, ACROSS THE RIVER AND INTO THE TREES captures a fleeting moment of immortality in still time. The story contains Hemingway's great themes: love, war, youth, the passing years.
Director's biofilmography
Paula Ortiz Álvarez is a Spanish director and screenwriter. Her debut film De tu ventana a la mía is from 2011. With her second feature, La novia from 2015 by Federico García Lorca, she garnered 12 Goya Award nominations, including Best Picture and Best Director.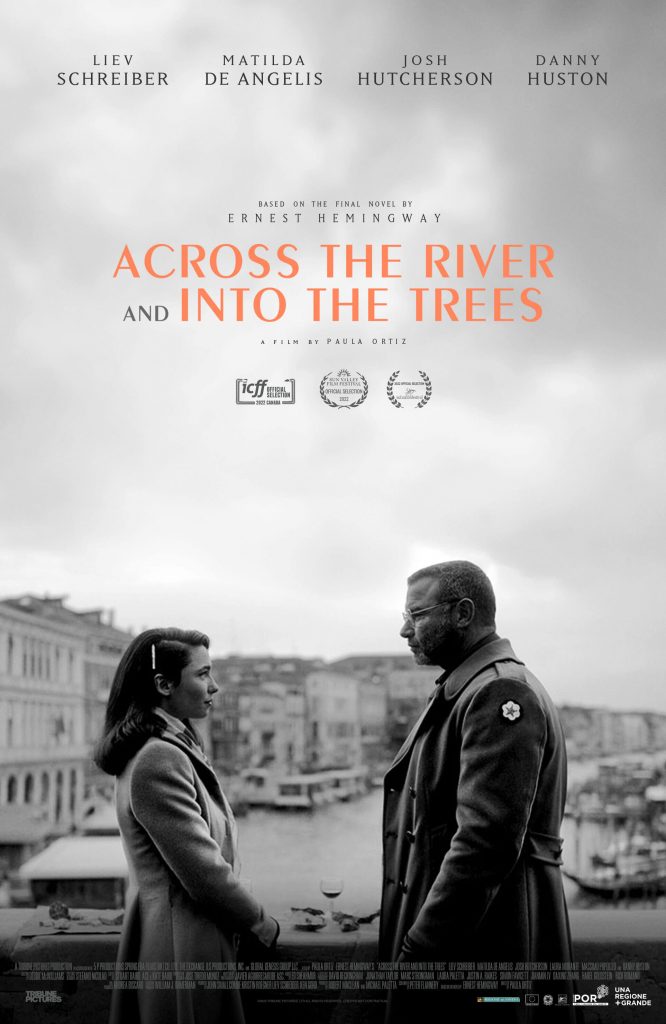 | | |
| --- | --- |
| CAST | Liev Schreiber, Matilda De Angelis, Josh Hutcherson, Laura Morante and Danny Huston |
| DIRECTOR: | Paula Ortiz |
| WRITER | Peter Flannery |
| PRODUCERS | Robert K MacLean, Michael Paletta, John Smallcombe |
| CO PRODUCER | Andrea Biscaro |
| COMPOSER | Edward Sheamur |
| CINEMATOGRAPHER | Javier Aguiressarobe |
| PRODUCTION DESIGNER | Jose Tirado |
| EDITORS | Stuart Baird and Kate Baird |
| PRODUCTION: | Tribune Pictures |
| DISTRIBUTION: | The Exchange |
| DURATION: | 110 Min. |
| RELEASE YEAR: | 2022 |
| LANGUAGE: | English and Italian |
| SCREENING DATE: | 2/7/2022 |
| PLACE OF PROJECTION: | Piazza d'Armi |
| LOCATION: | Venice, veneto region, Italy |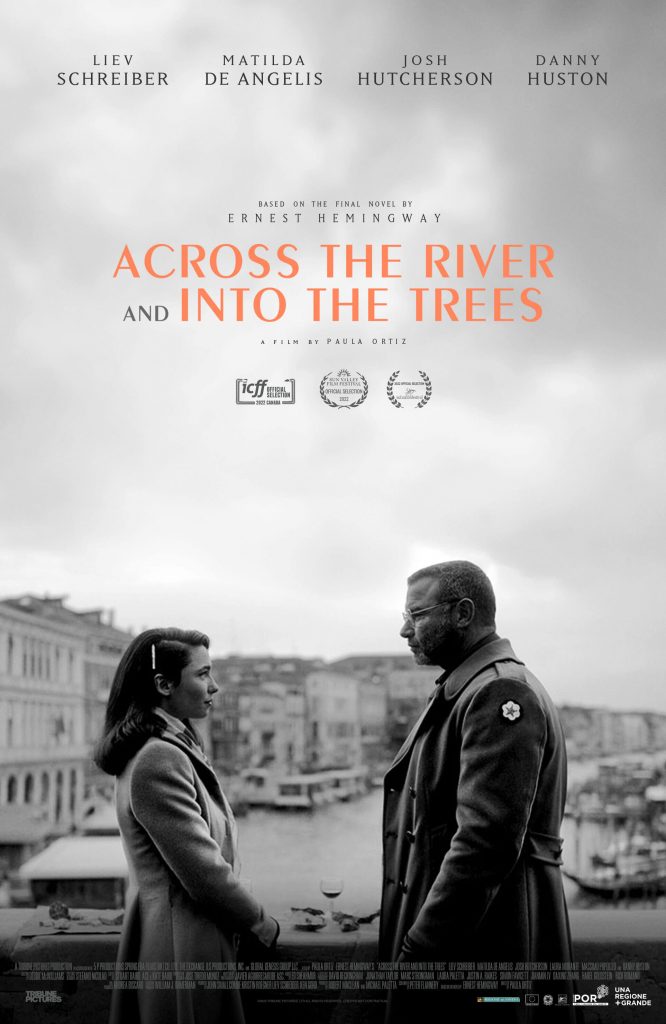 EUROPEAN PREMIERE 
July 2nd, 2022 - Ischia Film Festival (Italy)
Across the River and into the Trees – European Première 
at XX ed. Ischia Film Festival – July 2nd 2022
Best Scenes/Set Design Award to Jose Tirado
collected by executive producer Laura Paletta
JULY 15TH, 2022 - ICFF TORONTO (CANADA)
Lavazza IncluCity Film Festival - Jury Prize
"The Lavazza IncluCity Festival unanimously awarded the Jury Prize to Across the River and Into the Trees directed by Paula Ortiz and starring an exceptional cast including Matilda De Angelis, Liev Schreiber and Josh Hutcherson. The film, based on Ernest Hemingway's last full-length novel of the same name, is a collaboration between Italy, the UK, and Canada, bringing to screen a captivating, entrancing, and multi-layered drama through rich dialogues and breathtaking cinematography. Fully set in Venice, the movie captures the city's misty soul mirroring the characters' inner struggles with its black-and-white photography."
WORLD PREMIERE
MARCH 30th, 2022 - SUN VALLEY FILM FESTIVAL (USA)
"Showing the movie for the first at the Sun Valley Film Festival is full of symbolic charge for us because to be in the place where Hemingway once lived causes that the seed that led us to make this film to flourish in the land it should truly be born" Paula Ortiz